Coronavirus Resource Guide
While the COVID-19 crisis is constantly changing, we are making sure to update this page regularly with the resources you may need. Please call us at 802-839-1928 and tell us how you are affected.

The Vermont Department of Health has updated their guidance surrounding COVID-19 Exposure and isolation time to better reflect recent changes to the CDC policy on isolation following a close contact. Find the latest CDC guidance here.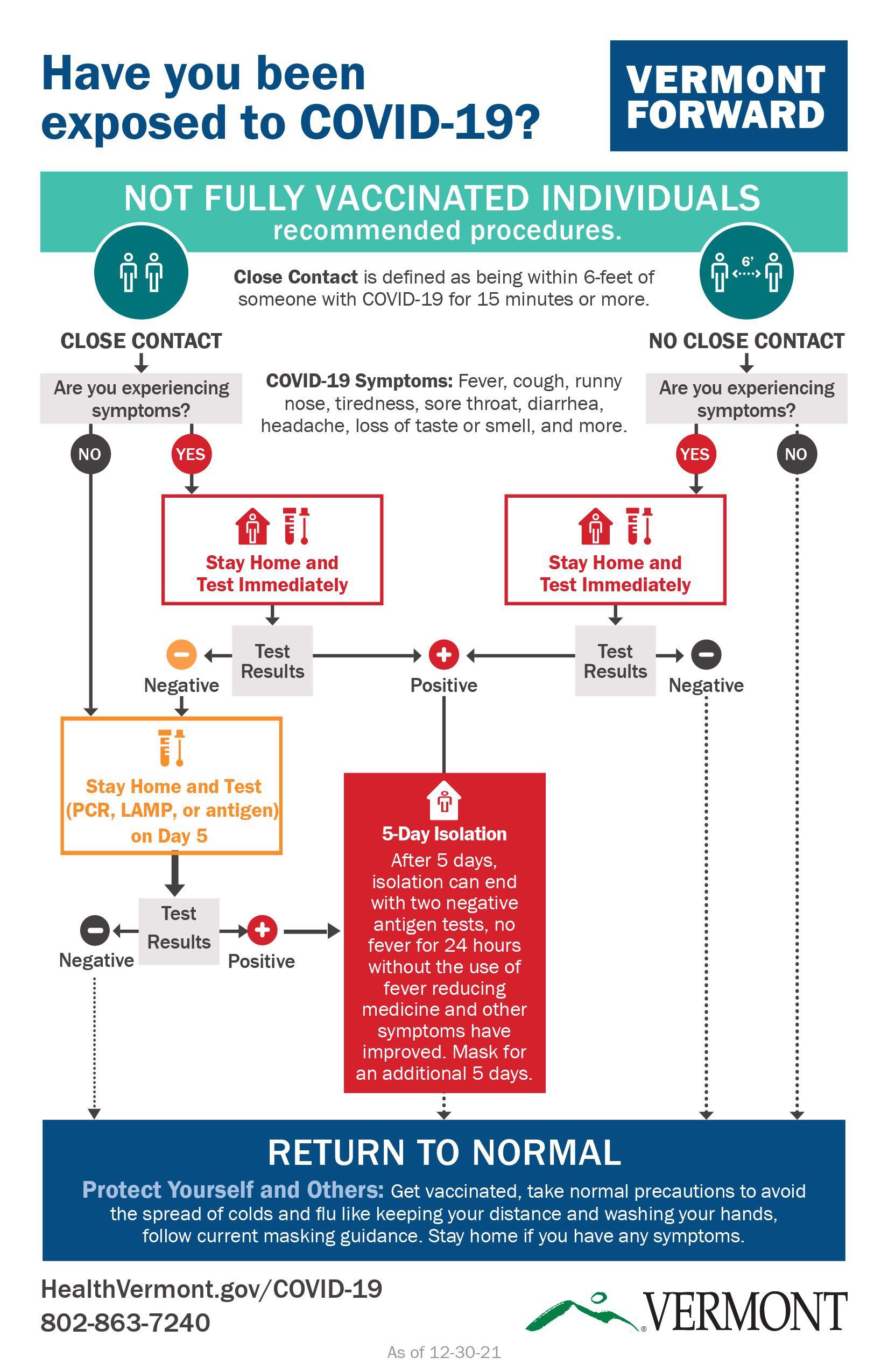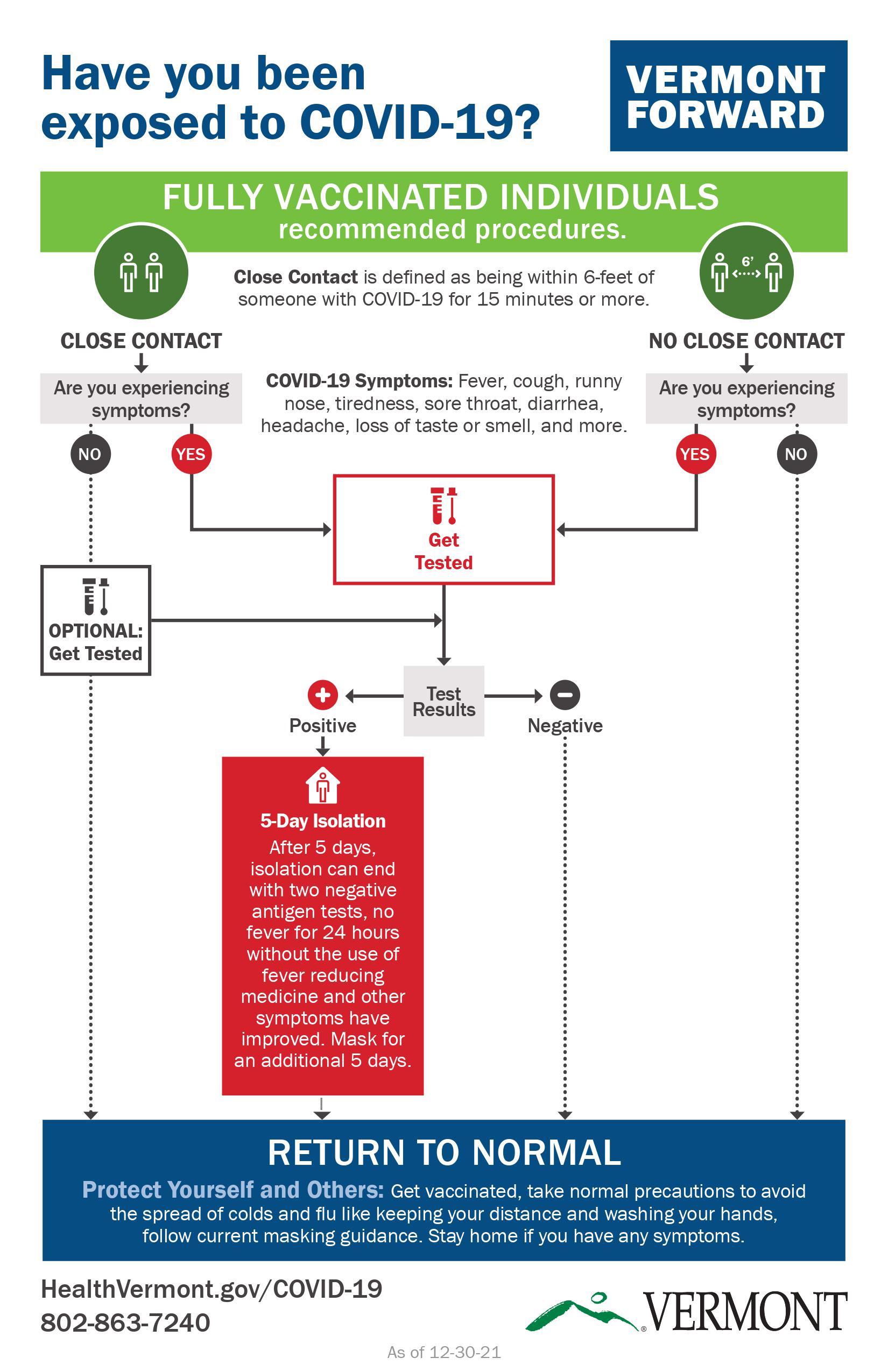 Mask Use for Employees:

Cleaning:

Useful Printouts:
Additional Resources
CURRENT LABOR LAW: Labor law during COVID-19 has rapidly changed and adapted to the situations that have arisen. Check the Vermont Department of Labor website for consistently up to date information. For specific issues you cannot find answers to, reach out to the VRGA team so we can assist. Breakdowns of major changes/additions to the labor law system are below.

Refusal to Return to Work
The Department of Labor reminds unemployment claimants who have been placed on temporary layoff or furlough related to COVID-19 that they must return to work if called back by their employer. Refusal to return to work, when being offered the normal rate of pay and number of hours per week, may result in the termination of unemployment benefits and the need to repay certain benefits.

If your employees have refused to return to work and are instead continuing to draw unemployment benefits, you must report this to the state Department of Labor. Employers should complete the online refusal to work form.

Work Search Requirement Reinstated for UI Recipients
As of Sunday, May 9th, 2021 the Department of Labor's work search requirement is back in effect. Claimants who are filing in regular UI and do not have a COVID qualifying reason, as well as claimants filing in PUA who are not categorized as self-employed or independent contractors, and who do not have a COVID qualifying reason, will be required to begin making three work contacts each week beginning the week of May 9 – May 15. Only legitimate work inquiries will be considered valid.

The work search requirement was waived last spring when Governor Phil Scott's "Stay Home, Stay Safe" order went into effect. Details on upcoming work search events can be found here.

Curbside and to-go alcohol will continue through 2023 due to the Governor signing H. 313/Act 70. This bill does not allow for continued delivery of alcohol.

Per H.313 restaurants, bars, and retailers can continue to offer for take out and curbside:
First- and third-class licensees to sell malt beverages, vinous beverages, and spirits-based prepared drinks for off-premises consumption. All sales of alcoholic beverages for off-premises consumption must be accompanied by a food order.
Second-class licensees to provide curbside pickup of unopened containers of the alcoholic beverages that the licensee is permitted to sell from the licensed premises pursuant to section 222 of this subchapter.
Fourth-class licensees to provide curbside pickup of unopened containers of the alcoholic beverages that the licensee is permitted to sell from the licensed location pursuant to section 224 of this subchapter
For any alcoholic beverage sold pursuant to subdivision (a)(1) of this section, the first- or third-class licensee shall provide the alcoholic beverage in a container: (1) with a securely affixed tamper-evident seal; and (2) bearing a label that: (A) states that the beverage contains alcohol; and (B) lists the ingredients and serving size.
A licensee may sell alcoholic beverages pursuant to this section between 10:00 a.m. and 11:00 p.m.
If you are considering offering this, we strongly encourage you to contact your Insurance agent to discuss your current Liquor Liability coverage.

The CDC has issued an updated recommendation that those in COVID hot spots (red areas on this map) wear masks while indoors regardless of vaccination status in order to maximize protection from the Delta variant as it spreads. VSFA is monitoring these developments and will keep members apprised of changing guidance and regulations.

As of June 14, 2021, more than 80% of eligible Vermonters have received at least the first dose of the COVID-19 vaccine and Governor Phil Scott has authorized the move to Step 4 of the Vermont Forward Plan, lifting business, gathering, and travel related restrictions, nearly two weeks ahead of schedule.

What does this mean:

No travel restrictions for anyone entering or leaving the state of Vermont
No capacity restrictions for events
Businesses are encouraged to follow universal guidance
Universal Guidance includes:
staying home if sick
wearing a mask if unvaccinated
ensuring 6-foot spaces,
practicing good hygiene and
knowing the travel restrictions
As Vermont has now entered Stage 4 of Vermont Forward, there is no longer a statewide mask mandate in place. Unvaccinated Vermonters are encouraged to wear masks and socially distance. Business owners should keep in mind that OSHA and VOSHA have their own guidance on masking in the workplace, please follow the guidance in the section below entitled "Mask Use for Employees" before making changes to your business processes.
Information on how this guidance relates to masking is in the next section below
OSHA has published updated General Workplace Guidance.
VOSHA has published a memo with guidance that follows OSHA's latest guidance
The updated guidance from both organizations makes clear that: Unless otherwise required by federal, state, local, tribal, or territorial laws, rules, and regulations, most employers no longer need to take steps to protect their fully vaccinated workers who are not otherwise at-risk from COVID-19 exposure. This guidance focuses only on protecting unvaccinated or otherwise at-risk workers in their workplaces.
If your workplace is a mix of vaccinated and unvaccinated individuals you still need to take steps to provide for the safety of those unvaccinated individuals. Keep in mind that contraction of COVID-19 in the workplace remains an OSHA reportable incident.
If you choose to implement the most current CDC guidance for vaccinated and unvaccinated employees, VOSHA recommends employers establish documented and well communicated policies for their workplaces, which cover several items which can be found here.
The Office of Governor Scott has issued a new Executive Order to ensure federal funding continues to flow to the state as it combats remaining COVID-19 matters. This order: Maintains the Vermont National Guard's State Service Status to allow them to continue to assist in pandemic relief, maintains access to federal funding for housing and feeding Vermonters in need, and allows the continuance of to-go drinks until H. 313 becomes effective on July 1st and continues their sale by law.